* Above: They survived the bullets, then were rounded up.
The contemporary art conference known as SITAC opens today at the Centro Cultural Universitario Tlatelolco, a facility recently inagurated by Mexico City's UNAM and housed in a breathtaking temple to Mexican modernism, the old Secretaria de Relaciones Exteriores at Tlatelolco. The former government complex has been converted beautifully to an arts and exhibition space.
What drew me there on Wednesday however was the new exhibit at CCUT dedicated to 1968, the year that marked worldwide political upheaval in the last century, and specifically to what happened at the nearby Plaza de las Tres Culturas on 2 October 1968: the repression of Mexico's student-led reform movement at the hands of the government and military. Untold numbers of unarmed demonstrators were injured, jailed, or slaughtered and disappeared.
The exhibit uses political graphics, photography, news media clippings, video testimony from survivors, and other footage to chart the build-up to Tlatelolco, including the global context of similar showdowns in the United States, Europe, South Africa, and elsewhere. Then it lays out the events and aftermath of 2 October 1968 in explicit detail. With the actual site of the massacre just steps away, the show is emotionally challenging on many levels. Here are a few images: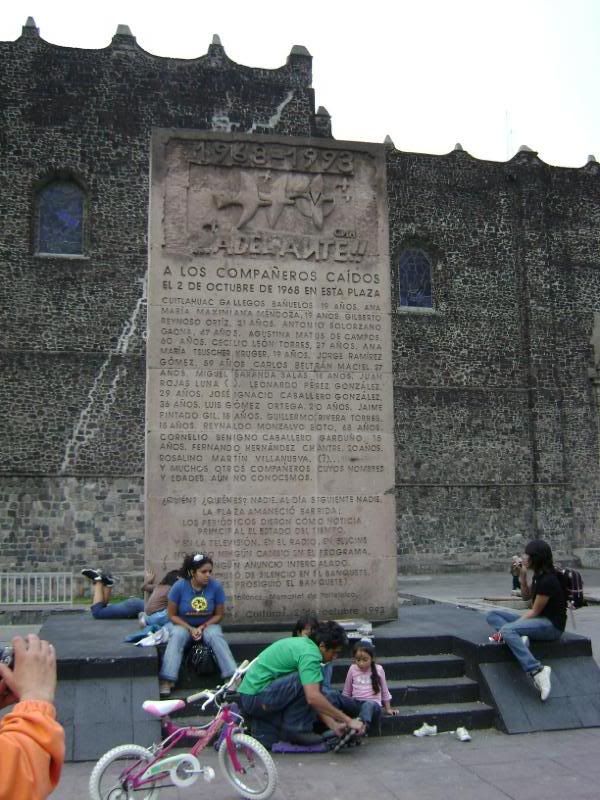 As far as I understand, the 1968 exhibit at CCUT is permanent. Admission is 20 pesos. * Previously, "Nada Paso: Contemporary responses to Tlatelolco, '68."